Sounds Fun 2021 was more than I could have imagined. This year the event grew considerably and we were able to invite:
20 schools

16 buses

And 600+ tamariki
who utilised the Sounds Fun activations across four, fun filled, and learning loaded, days.
This year our wonderful tamariki were immersed in the amazing "Van Gogh – Alive" experience and the highly interactive "Happy Place" exhibition. A massive thanks to the  Spark Arena and those exhibitors, for that opportunity.
After a generous helping of inspiration (Van Gogh) and maybe a little perspiration (Happy Place fun) it was time to create music in the Tuning Fork, with "Sounds Fun".  This was possible through key staff from the Rockshop / KBB Music, Ableton, Melodics and the APO who all shared their enthusiasm and knowledge of all things music.
Seeing so many smiles not only from the tamariki but also from those helping to make this dream come true was fantastic. What a truly magnificent team we have  and we are incredibly grateful to the whanau of Spark Arena for helping us make the event so enjoyable for all involved.
To everyone who helped make each day run so smoothly and successfully, thankyou.
Thankyou to all those who participated, from those schools across Auckland. 
And, finally, thank you Brendan for your ongoing support and your vision to bring music and the arts to our tamariki and our tamariki to the music and the arts.
This is step one on our musical journey – we look forward to growing the event and it's reach in 2022.
                                               Suzy xox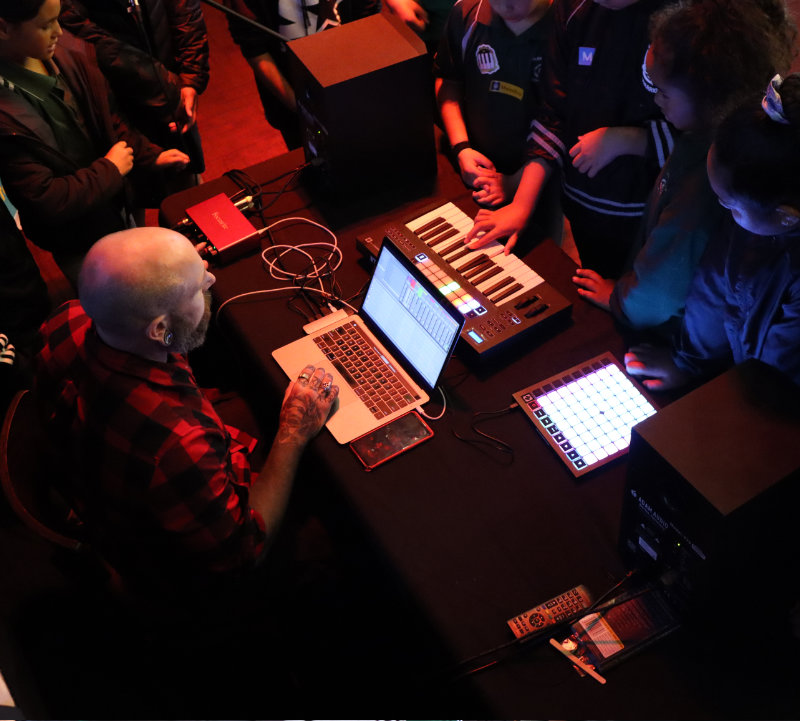 What happens when you offer access to an open mic, a keyboard and a drumpad to a group of enthusiastic tamariki? 
Click play and find out!
A huge thanks to Barnaby Davies (AKA DJ Crook$), the Ableton rep for The Rockshop. His interactive session during Sounds Fun was a huge hit.
Barnaby took the audio recorded each day and mixed it into some very cool tracks.  He has purposely kept the sound raw so the tamariki can hear their own voices and identify the sounds they made.
The pieces from all four days are wonderfully unique and interesting.